Greeting from President
Message from JHRS President 2018-2020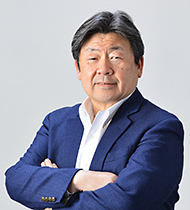 Dear Colleague,
Welcome to the JHRS Website!
I have been appointed to the third president of the Japanese Heart Rhythm Society (JHRS). The JHRS was established in May 2015 by a merger between the Japanese Heart Rhythm Society and the Japanese Society of Electrocardiology. These two societies have a long history of over 35 years. Because these two societies were making contributions in much the same field, a merger between them had been discussed many times over the course of the preceding decade. Both strongly believed that the integration of human and material resources would result in the further advancement of scientific activities in the field of arrhythmia and electrocardiology in Japan. Journal of Arrhythmia is the official journal of the JHRS and the Asia Pacific Heart Rhythm Society (APHRS). As of July 2018, the number of JHRS members is 9,200, which includes physicians, researchers, and many medical professionals: clinical engineering technician, nurses, clinical laboratory technician, medical radiologist, and Cardiac Device Representatives (CDR). The JHRS is now recognized as one of the major medical associations in Japan. I am very much honored to serve as a representative of such a prestigious society, and at the same time determined to contribute to the development of the Society.
The JHRS continues to engage in activities such as further promoting a multidisciplinary approach in areas such as pathology, diagnosis and treatment concerning arrhythmia and strengthening coordination between clinical and basic research in the field of electrocardiology, activities that had been established by the respective societies over a 35-year period. We are also striving to promote clinical research related to arrhythmia as well as the education and cultivation of human resources to improve diagnosis, treatment and prevention of cardiac diseases and foster medical development while also contributing to the advancement of public health throughout Japan.
We provide an international platform of top-level scientific exchange and education at our Annual Meeting in July. We also hold the Catheter Ablation Autumn Conference and the Cardiac Implantable Electronic Device Winter Conference. Young EP physicians can attend educational courses throughout the year and apply for JHRS Certification – Exam.
In the next two years, I am committed to working on the many issues. I hope that you will continue support for the development of your JHRS. I count on you for input or critical remarks and look forward to our common future!
Respectfully,
Your JHRS President 2018-2020
Akihiko Nogami, MD, PhD
President of the Japanese Heart Rhythm Society
(University of Tsukuba)
Japanese
Heart Rhythm Society
4F KYONI BLDG.
4-3-24 Kudan-kita,
Chiyoda-ku,Tokyo,
102-0073 Japan
Tel: +81-3-6261-7351
Fax: +81-3-6261-7350
Email office@jhrs.or.jp